To advance to the next level, a character must reach the maximum experience required for that level.
Heroes gain experience when fighting on the Battlefield. Both experience and level are not shared between multiple Heroes on one account (ex. you could have a level 24 Adelia and a level 65 Figaro).
The cap is currently level 99 for each Hero, and there are a few quests related to reaching said cap.
For a detailed list on how much EXP a stage gives along with its AP cost and AP:EXP ratio, check the Battlefield EXP Table.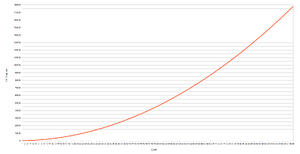 Required EXP Table (Heroes)
1
119
2
192
3
300
4
444
5
624
6
840
7
1086
8
1380
9
1704
10
2058
11
2460
12
2886
13
3360
14
3858
15
4398
16
4974
17
5586
18
6228
19
6918
20
7632
21
8388
22
9186
23
10002
24
10872
25
11772
26
12702
27
13674
28
14682
29
15726
30
16800
31
17916
32
19068
33
20256
34
21474
35
22734
36
24030
37
25362
38
26724
39
28128
40
29568
41
31038
42
32550
43
34098
44
35676
45
37296
46
38952
47
40638
48
42366
49
44130
50
45924
51
47760
52
49626
53
51534
54
53472
55
55458
56
57462
57
59514
58
61602
59
63736
60
65874
61
68076
62
70302
63
72564
64
74868
65
77208
66
79578
67
81984
68
84432
69
86910
70
89430
71
91980
72
94572
73
97194
74
99858
75
102552
76
105282
77
108054
78
110856
79
113700
80
116574
81
119484
82
122436
83
125418
84
128436
85
131496
86
134586
87
137718
88
140880
89
144078
90
147312
91
150588
92
153894
93
157236
94
160620
95
164028
96
167484
97
170976
98
174492
99
178056